3D STL 뷰어 – ABViewer 14
전문가용 3D STL 뷰어(Professional 3D STL Viewer)는 *.stl 형식의 파일을 가져오고 읽을 수 있는 프로그램입니다. 3D STL 뷰어는 STL 형식을 DWG 및 기타 형식으로 변환할 수 있습니다.
STL 파일 형식은 신속하게 시제품(프로토타입)을 개발하고 CAM(computer-aided manufacturing )에 흔히 사용됩니다. 3D STL 파일은 일반적인 CAD 모델의 색상, 텍스처 또는 다른 특성 등이 없으며, 3차원 물체의 표면 기하 정보만 담고 있습니다.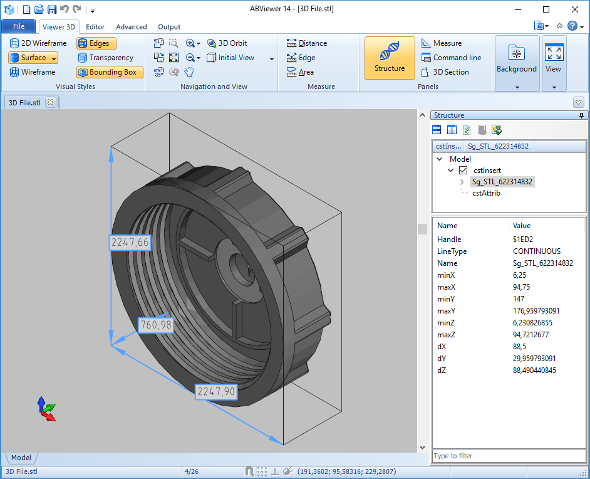 ---
How to uninstall STL Viewer?
ABViewer, an STL Viewer, has a built-in deinstallation tool. To deinstall ABViewer choose the ABViewer folder (on default it is called CADSoftTools ABViewer 14) in the Start menu and click Uninstall ABViewer. Follow the steps of the standard Uninstall tool.
You can uninstall ABViewer in the Windows Control Panel:

Go to All Control Panel Items -> Programs and Features -> Uninstall or change a program;
Select ABViewer 14 and click Uninstall.