Visualizador 3D STL – ABViewer 14
Visualizador 3D STL profesional para importar y leer archivos de formato *.stl. El visualizador 3D STL puede imprimir y convertir archivos STL a DWG y a otros formatos.
Descargar visualizador STL Comprar visualizador STL
El formato de archivos STL es muy utilizado para crear prototipos rápidamente y para la manufacturación asistida por ordenador. Los archivos 3D STL solo describen la geometría de la superficie de un objeto tridimensional sin ninguna representación de color, textura u otros atributos de modelos CAD comunes.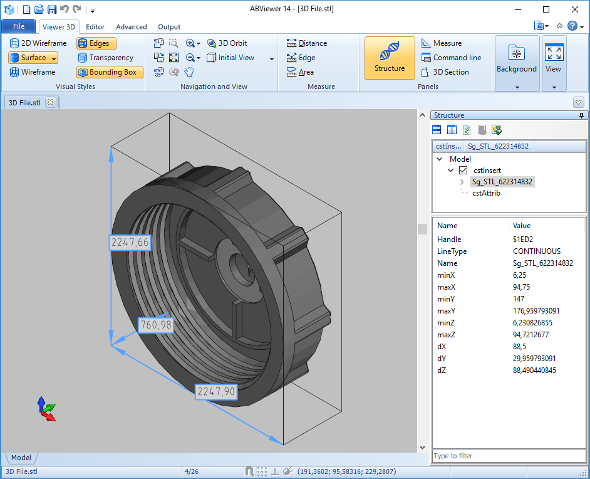 ---
How to uninstall STL Viewer?
ABViewer, an STL Viewer, has a built-in deinstallation tool. To deinstall ABViewer choose the ABViewer folder (on default it is called CADSoftTools ABViewer 14) in the Start menu and click Uninstall ABViewer. Follow the steps of the standard Uninstall tool.
You can uninstall ABViewer in the Windows Control Panel:

Go to All Control Panel Items -> Programs and Features -> Uninstall or change a program;
Select ABViewer 14 and click Uninstall.